Toyin Babatope Adegbola, also known as Toyin Tomato, is a Nigerian actress, producer, and director. She has a lovely daughter named Adeola.
The seasoned actress and producer was born in Osun State, a southwest Nigerian state, on December 28, 1961, according to Wikipedia.
Toyin Adegbola Daughter
Her daughter, Adeola Adegbola is based in Dublin, Ireland and is in the country for the mandatory one-year National Youth Corps Service (NYSC) which she just concluded.
Like her mum, Adeola wears a low-cut hairstyle, which made some argue that the current picture circulating online is a photoshop of her mother's picture.
Gossipinfo news recall that Toyin Adegbola, aka "Toyin Asewo To Re Mecca," has shared a lovely throwback photo of herself with Prince Jide Kosoko and two other veteran actresses on her official social media handle. This photograph was shot almost a quarter-century ago. They appeared to be in their prime. Beautiful memories were evoked by the photo. These were the good old days, and they still remember them fondly
According to Toyin Adegbola, "Thursday is Throwback Thursday. If you recognize them, give them a name and a tag ".. This gorgeous snapshot triggered numerous emotions, with many people leaving lovely comments. Madam Saje, a veteran actress, sent love emoticons.
Celestial remarked, "Fan," "These are the legends of our people. They have been a source of pride for us. In Jesus' great name, may you all live long "..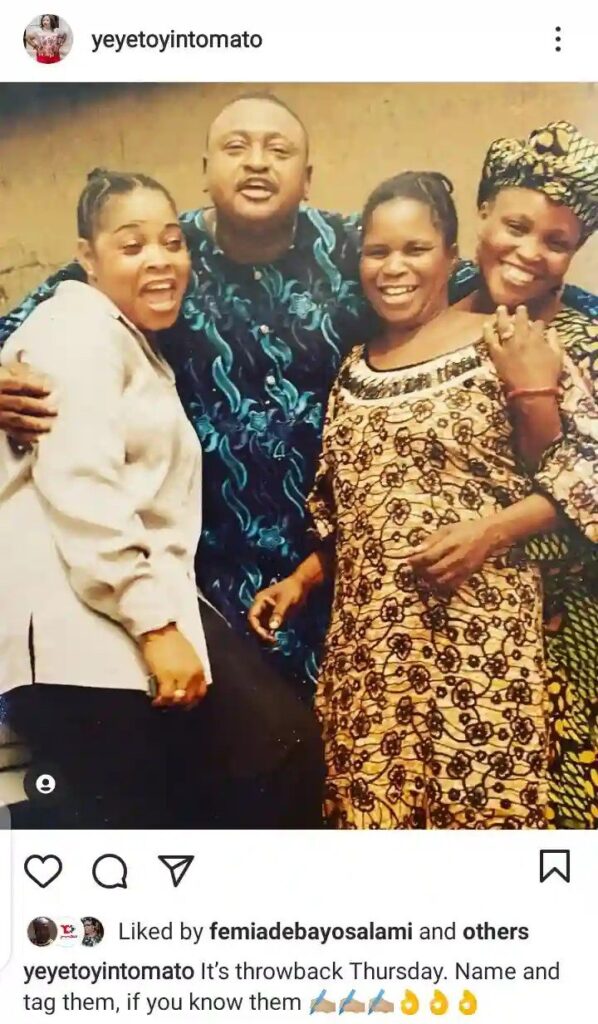 Toyin Adegbola has been acting for over 25 years and is still relevant in the movie industry. She currently lives in Ibadan and is a member of the board of the Osun State Arts and Culture Council.