Chichi, a housemate on Big Brother Naija, triumphed in the Head of House Games this evening, earning her the absolute veto right to send two housemates with her to the grand finale.
ChiChi informed Bryann that she knew he and Hermes were strong and that the audience would choose to save Phyna and Daniella.
She added that Phyna was her best friend, and as Daniella had the best pitch, she had no choice but to save them.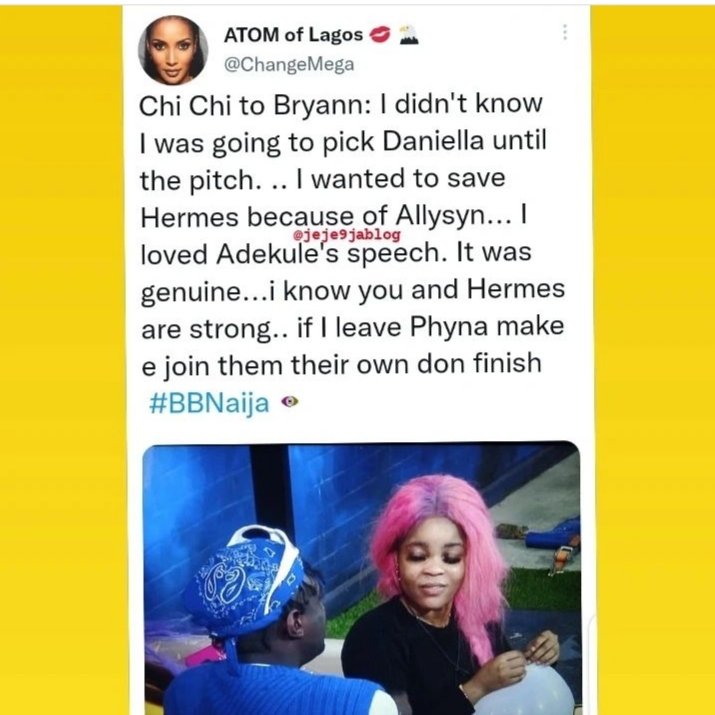 Read some of the statements the housemates made during their pitch.
Groovy to Chi-Chi —
I want you to pick me because I want to share the stage with you.. I love being here so much.. also you know I and Phyna are one.
Chizzy to Chi-Chi —
Thank you for picking me as deputy HOH. I know there is only one slot left.. I know you are a super woman and your decision are always right…I want you to pick me.
Sheggz to Chi-Chi—
you know the vibes and out relationship is not fake.. if you pick me it's lovely and if you don't it's fine.. I'm tht real one and I believe you know that.
Hermes to Chi-Chi —
You know I looked out for you since day 1, if I'm going to win the show, I will survive this process.. don't sleep on me..
Adekunle to Chi-Chi—
I'm proud of you, and I'm proud we are now friends, I want you to consider taking me to the finale because it boast my confidence.
Rachel to Chi-Chi —
I know you won't pick me but it's not a big deal..let's just gist till my time is over.
Daniella to chichi—
I will love to get to the finale, I will be surprised if you picked… I do have much to say.. I hope you pick me.
Bryann —

I'm happy for you no matter what happens.. I want you to pick who is in your mind.. I believe you know who you want to pick. .. at this point is nothing personal.. I want you to have an open mind