Oladimeji Moyin and Doyin, nicknamed Twinz Love, famous Instagram twin content creators, responded with "Amen" to a follower who criticized their father in the Instagram comment box.
After abandoning them for years, Twinz Love and their mother disclosed that their father is now interested in re-entering their life.
In response, their father refuted the majority of the allegations, claiming that she left the twins in my care for two months and accusing wife Iya Ibeji of being unfaithful and unyielding.
Twinz Love has been criticizing their father on social media ever since.
A fan took to social media to place curses on their father and the Twinz Love said 'Amen'.

See the post below: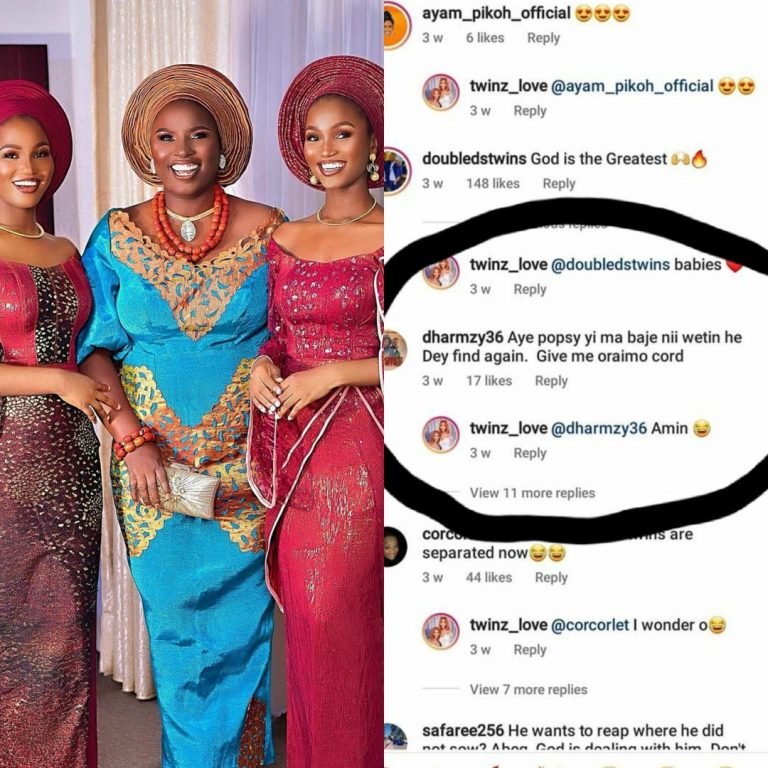 In a recent news Twinzlove, the mother of the well-known twin comedians, has responded to her ex-criticism.
The irate mother responded to the accusations by denying all of them while adamantly maintaining that her children are hers alone.
Her ex had accused her of leading a wild life and abandoning her children when they were little.
The mother of the twin musicians Twinzlove, Princess Oladimeji, has come forward following accusations that she abandoned her kids. Serious accusations were made against her by her ex-lover, who claimed she had cheated on him and neglected her kids.
She refuted the allegations and described the struggles she had while caring for her twin daughters. Princess claims that the chemicals she came into contact with while performing menial tasks have caused one of her hands to no longer work correctly. She also sent a message to her ex-husband and other individuals pleading for her daughter to reconcile with their father.
Princess asserted that it wouldn't take place because her daughters would have her last name as their only connection to a father. When she was suffering and working day and night to take care of their children, she went ahead and asked her estranged husband where he was.
In her words:
"Where were you when my children were lifeless at UCH that I had to lose my job because of that.
Where were you then? Did you come to support me? "I didn't want to talk because I'm someone that is emotional. I might not be able to finish this video. I will stay at the gate with list of drgs to beg people about my children's treatment.
"If I am an irresponsible mother, will I stand still to survive with those children? A landlord even tried to sleep with me because I didn't pay for rent. I didn't agree. This man had to tell his wife that I'm the one forcing myself on him.
"They called the whole street to insult me and send me out. Were you there? When they see success, they start coming. If I say I don't have a family nobody can challenge me. When I gave birth to twins, my family neglected me because I don't have money to give them.
"Nobody should ask my children again about their father. If anybody do, I will rain curse on that person. I don't sell my body, I don't pocknose. My hand got bad because of the chemical I used in washing for good 9 years. Where were you then?
"I pray all of you telling my children to go and meet their father will pass through what I passed through. Don't you hear their surname? They answer my surname, Oladimeji."
Reaction as mother of Twinzlove blows hot Atinuke
Adeoye wrote: "You don't need to explain to anybody again madam they are not in your shoes . keep enjoying the grease of God."
Susan Abolaji said: "Iya ibeji, you are a glory to behold. You are encouraging me seriously. I say Amen to all your prayers."
Ola Pearl commented: "You are saying another story entirely again. I don't know why dey are begging you and you children sef. Live your life. Wen the man no dey with you shey he no dey chop ni."
Araoye Aminat added: "Atimes men when u realize ur wife has zero respect for you or does not acknowledge you as his small daddy run as fast as ur leg can take you this is the end result of not being submisive."