Nigerian actor Tayo Adeleye, who resides in America, celebrated his wife's birthday on social media.
Tayo Adeleye shared a touching statement on social media as his wife celebrated another year of life, expressing his love and appreciation for her and letting the world know how much she meant to him.
In the post, Tayo Adeleye conveyed his heartfelt emotions, writing, "Happy birthday to the woman who fills my heart with joy and love. You brighten my darkest days, and I'm blessed to call you my wife.May your birthday be filled with sweet moments and cherished memories.God bless your new age🙏🙏🎂💋🎂💃💃🙌🥂🍾🍾❤️❤️."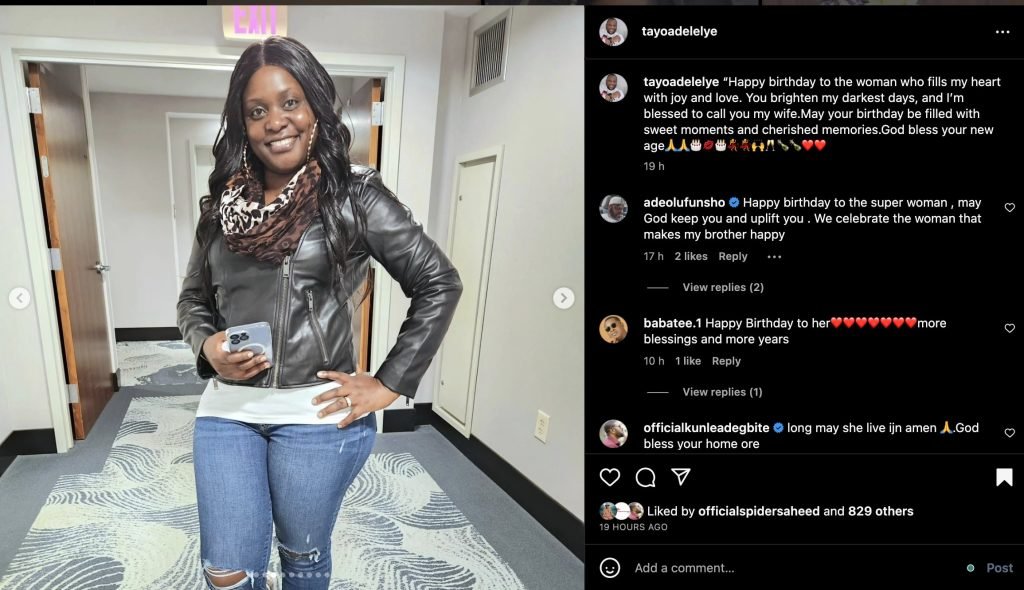 Reactions
Tayo Adeleye's post garnered an outpouring of love and well wishes from friends, colleagues, and fans alike. Many took the opportunity to celebrate the couple's love story and wish his wife a happy birthday.
Actor Funsho Adeolu wrote, "Happy birthday to the super woman , may God keep you and uplift you . We celebrate the woman that makes my brother happy"
Baba Tee wrote, "Happy Birthday to her❤️❤️❤️❤️❤️❤️❤️more blessings and more years"
Femi Ogedengbe wrote, " I join you in Celebrating your African Queen, I wish her long life and prosperity. May the lord grant your family all your heart desires, Amen. HAPPY BIRTHDAY Mrs Adeleye"
One fan wrote, "May her Birthday be blessed with everything God wants to give her! Let the sun shine brighter for her today and all the upcoming days! Let the wind show her the right direction, and let the rain wash all the pain of the past years… I wish her long life and prosperity."
Another one wrote, "May your New year be blessed with divine health, all round success and Mercy of God Almighty. You shall testify good things to our Lord very very soon in Jesus mighty name. You shall be celebrated. Enjoy your day."

Another one wrote, "Happy birthday babes. You shall have many reasons to celebrate all the days of your life  Cheers to long life and prosperity  Enjoy your day sis"