Laide Bakare, a popular Nigerian Yoruba movie actress, has provoked online outrage after sharing a new video on social media. The amazing actress shared a video of herself and fellow colleague Baba Alapini Osa on her Instagram account a few hours ago.
In front of the seasoned actor, Laide Bakare was seen on her knees. Baba Alapini was seen in the film praying for Laide Bakare, who had just finished building a multimillion-naira home in Lagos, Nigeria. Baba Alapini Osa dressed in traditional Yoruba garb as he prayed for Laide Bakare.
Laide Bakare wore a black pants with a white shirt. While Baba Alapini prayed for her, she held Baba Alapini's left hand and shouted amen. She enthusiastically hugged the legendary actor when he finished praying for her to express her gratitude. One thing is certain: the two stars have a wonderful relationship, as Laide Bakare continues to refer to her as "baba" Remember how Laide Bakare's father died in the icy hands of death a few years ago?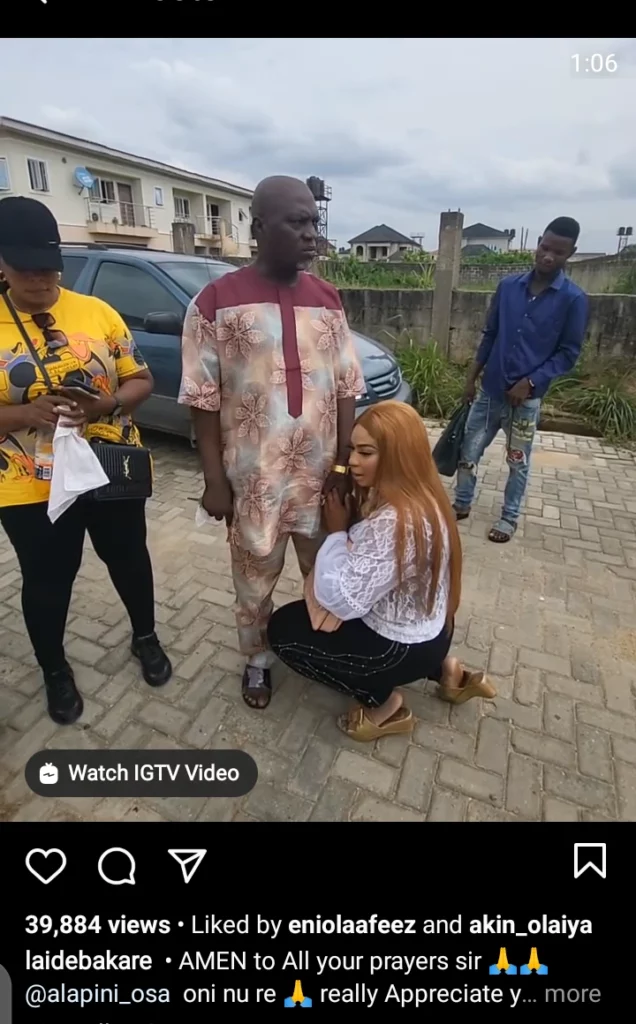 Many of her followers and fans have reacted to the video via liking and commenting underneath the post.
See some screenshots below