Bella Shmurda a friend of the late Mohbad has finally voiced out and begged Nigerian police to please arrest Naira Marley, Sam Larry, and All Marlian Members because they all had hands in his death he revealed everything he discussed with the late singer and revealed the late singer is tormenting him as he speaks to his ear every time.
Read What he Said Below;
@bella_shmurda has broken his silence, and here's what he had to say:

In recent days, I've been contemplating my actions regarding the maltreatment and malicious acts inflicted upon Mohbad by certain individuals. Even after his passing, his spirit haunts me, whispering names and faces of those responsible in my dreams. Just a few days before I left for Canada, I visited him and shared my plans, as we always did. My intention was to spend time with my family and kick-start my tour, but I find myself mentally unprepared for it now. I'll return in a few days.

Mohbad had submitted numerous petitions against these individuals and their actions towards him. He cried out and shouted for help, but the Nigerian police seem apathetic and tainted by nepotism in this matter, until it was too late.
See His Post Below;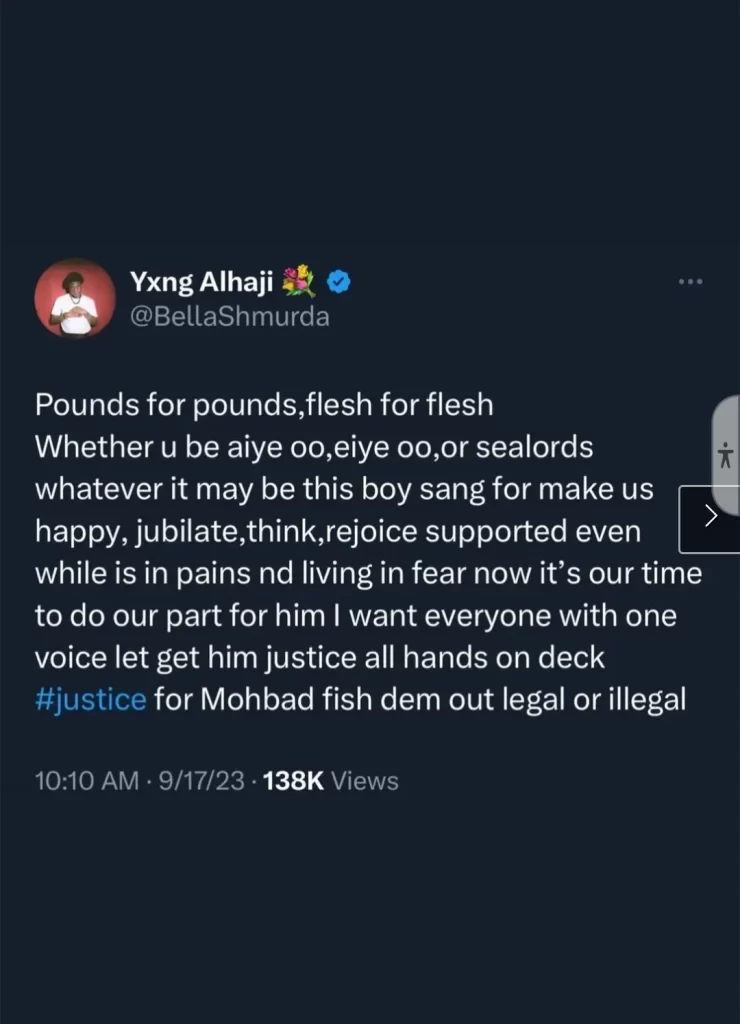 See Social Media Reaction Below;
D_realsolz: God channeled a child who's a blessing, a light, a star and a champion to this family. They couldn't nurture, guide and protect it instead they toiled, misuse and mess with it. I'm sorry to say this family or lineage might not witness one of such ever again. 🥲
Any money wey that him papa collect make he return or hold ham but speak up 🗣 and fight for the justice of your son. 🥲
Ola.wealth21: I hope Nigeria police do the right thing ooo🙏
Aje.entertainment001: Bella Shmurda order immediate arrest on Samlarry, Naira Marley nd all Malians crow. Yansh done open. Shit want come out 😂😂😂 Wonisorire seh.
Presh_2356: This SS 3 boys called police, they are just going to work for salary they are not doing their work