Many of us recognize Nkechi Blessing Sunday, a rising actress who gained fame a few years ago and has continued to excel.
Recently, she shared new messages on her Instagram story and might provide further context about the subject of her posts.
She writes that she's not a celebrity you can abuse and can get away with because she has changed and she will come hard for anyone who abuses her. Nkechi Blessing Sunday has always found a way to trend on social media platforms but this might be for a positive reason.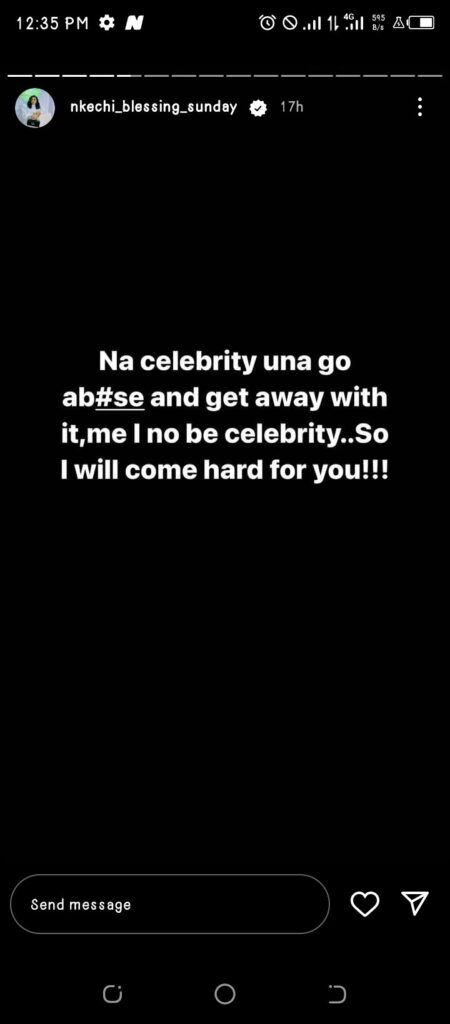 It's still unclear who Nkechi Blessing Sunday is referring to and this is something that a lot of people will want to know.
Damola Olatunji Says As He Called Out Adeniyi Johnson Over His
Gossipinfo news recall that Damola Olatunji a Nollywood actor and film producer shared a video on his Instagram page kissing his colleagues on a movie set.
Damola the ex-husband of Bukola Arugba drew the attention of many people online with the kissing scene he acted, Though he is still single and free to act in any scene he wants because he is no longer in any relationship with his ex-wife.
While Sharing The Video, the actor advises people to avoid mood spoiler because in the process of kissing his colleagues on set someone came in to interrupt them and he got angry and left.
This movie will be interesting, but the title is yet to be Revealed Online for us to see.