After Everton's 3-1 loss to Manchester United on Friday, the pressure on manager Frank Lampard grew.
As the second half began, Lampard also suffered the loss of midfielder Alex Iwobi to injury, making things even worse for him.
Iwobi has been one of Everton's top players this year, so this is a huge loss for them.
The Nigerian international has flourished for the Toffees while playing through the center of the pitch.
Demarai Gray, Everton's leading scorer, has only scored five goals in all competitions this season as a result of the team's struggles in the final third.
Iwobi has been their primary creator and has contributed as many assists (six) as the rest of the group.
He suffered a very unfortunate injury when his ankle became trapped following Tyrell Malacia's sliding challenge.
The 26-year-old was visibly in a great deal of pain, but he immediately lifted his shirt over his face to mask it.
Iwobi was stretchered off Against Manchester United
Iwobi posted a brief message on Instagram after the game that read simply, "Appreciate the love, back soon."
Many of his current and previous colleagues, including fellow Arsenal academy alumnus Bukayo Saka, responded.
Best wishes, Saka replied, adding "Speedy recovery bro." Saka was the ex-teammate.
Ainsley Maitland-Niles, another person with ties to Arsenal, added: "Back soon for real."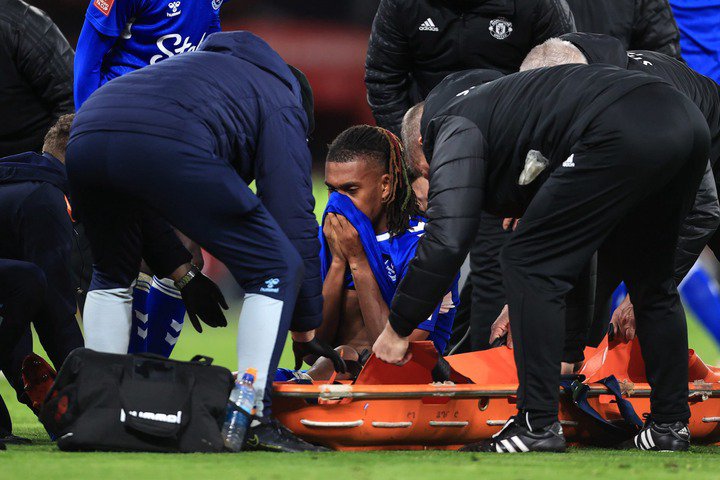 Everton's chances of remaining in the Premier League are still very much in jeopardy, therefore Lampard will want Iwobi back as soon as possible.

According to the Liverpool Echo, Iwobi will have a scan in the coming days to see whether he may have had ankle ligament injury.

To the club's official website, Lampard expressed his hope that it wasn't too serious.

We're hoping the ankle ligament injury is only minor. Tomorrow, a scan will be done to confirm.
Injury Iwobi might alter January transfer intentions
Iwobi stated in November that he wanted to renew his contract and continue at Goodison Park.

However, no announcement has been made, and it's possible that the Nigerian is waiting to decide before acting.
Iwobi will now need to focus on his immediate fitness rather than his long-term goals after being stretchered off on Friday.
According to The Athletic, Fulham was interested in Abdoulaye Doucoure's January departure from Everton.
If Iwobi's injury is more serious than initially thought, those plans may need to be modified.