Shehu Sani, a former Kaduna Lawmaker and PDP member, responded to the Airspace closure matter.
Shehu Sani's post comes in the aftermath of the recent military takeover in Niger Republic, which has resulted in various cross-border issues.
The news about the whole issue starting with a troop led by Colonel Abduramane Tchiani storming the Niger Republic state house to seize power from the president has been widely reported.
The military takeover in Niger Republic has triggered numerous discussions, and in response, the Economic Community Of West African States (ECOWAS) has imposed sanctions on the nation. The situation remains a matter of concern for regional stability and governance.
According to the former Kaduna Lawmaker, if military regimes in Africa close down their airspace, coastal African countries may be compelled to divert their flights over the Atlantic Ocean when flying to Europe. This could have significant implications for air travel routes and regional connectivity.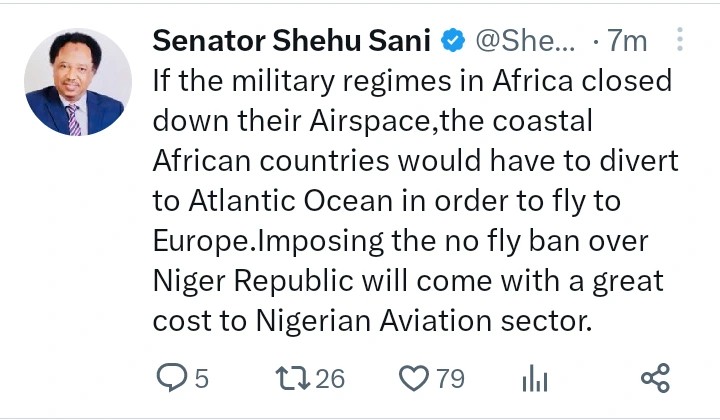 The former Kaduna Lawmaker expressed concern that imposing a no-fly ban over Niger Republic would have a substantial impact on the Nigerian aviation sector, likely resulting in significant costs and disruptions. Such a ban could affect flight routes and air travel operations between the two countries.