Nollywood actress Mercy Aigbe recently attracted the attention of her online followers with a post on Instagram. The color and style of Mercy Aigbe's traditional Edo clothing complemented her body features and made her look good.
Because traditional clothing in Edo State is incomplete without beads, she enhanced her appearance with beads. The layers of beads that are strung around her neck represent royalty and status. Her dress is gorgeous, and it fits her physique well. Her dress's lower portion features a design that can be removed and is constructed in several stages.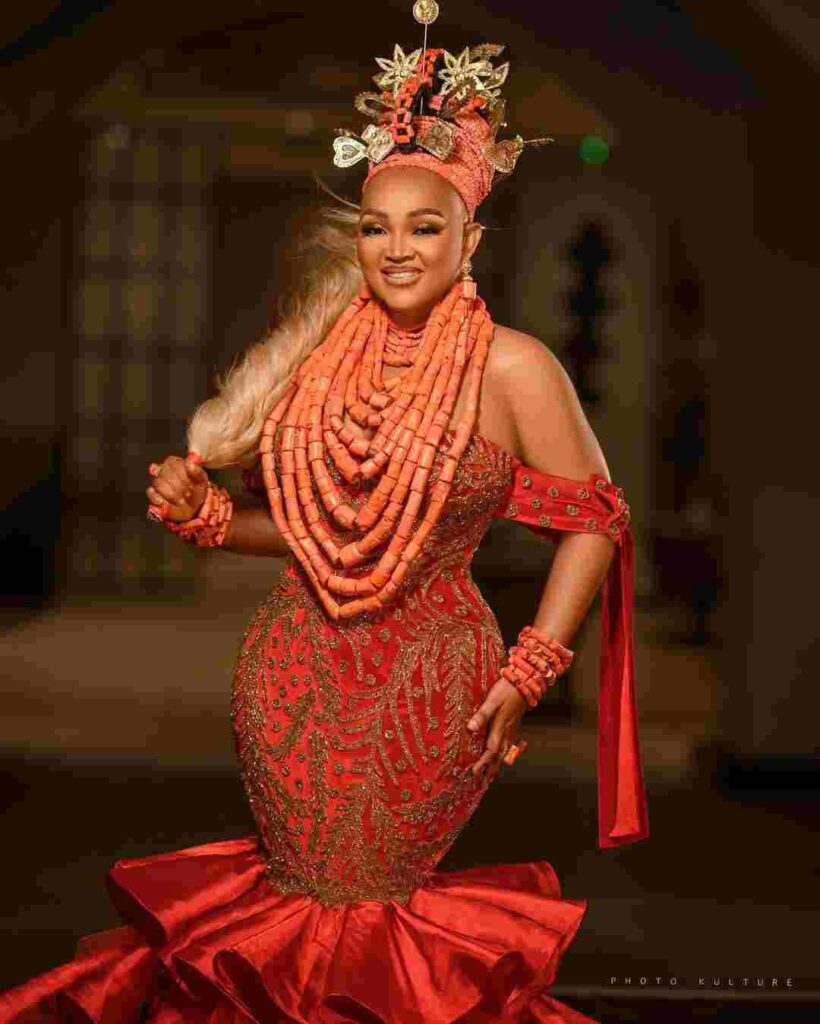 Mercy Aigbe captioned her post saying "I was born to be authentic, not to be perfect". Indeed her Edo traditional attire made her look authentic and sizzling. The crown on her head symbolizes something significant in Edo state and her makeup enhanced the beauty of her appearance.
Gossipinfo news recall that crossdresser Okuneye Idris Olanrewaju, also known online as Bobrisky, under heat for his shoddy photo editing.
The self-described "richest girl in Nigeria" recently posted a photo of himself on his official Facebook profile along with a self-congratulatory message.
Sharing the picture, he wrote:
"She's a baddie"
See the post below:
Unfortunately for Bobrisky, social media users noticed an anomaly in the photo and subsequently descended on him.
One James Samuel wrote: "Right hand don swell because of editing"
Habibat Ojonugwa Omede wrote: "Senior man You're the real definition of ladies and gentlemen"
All Berlin wrote: "This guy is spending much money on the body but trust he will regret sooner or later lazy boy instead of using your hand to work look at you "
Omachi Ibrahim wrote: "Senior man, the lord said, touch not my anointed and do my prophet Joseph harm. That thing between your legs, touch it not and do the prophets no harm. E get why"
Winstar Mara wrote: "I will confirm is she's a baddie when he posts unedited pictures of herself"
Marvelous Chinwa wrote: "Senior man ur shoe shine ur face show..handsome mummy beautiful papa of lagos "
Olayinka Donebaba Oladayo wrote: "You are beautiful Sir"