Saoty Arewa, a Muslim singer and composer from Nigeria, lost his mother yesterday, November 10, 2022.
Saoty Arewa shared the tragic news on social media.
He wrote:


This is my naming day Iyami Agbeke you promised to stay with longer buh death has cut the journey short sun re o iya Biodun😭😭😭😭😭😭😭😭😂😂😂


One of his close Ally Sulaimon Owoiya Ijobasafc also took to social media to sad news, he wrote:

REST ON MA ,MAMA SAOTY AREWA,INALILAHI WAHINA HILEHIN ROJIUNNA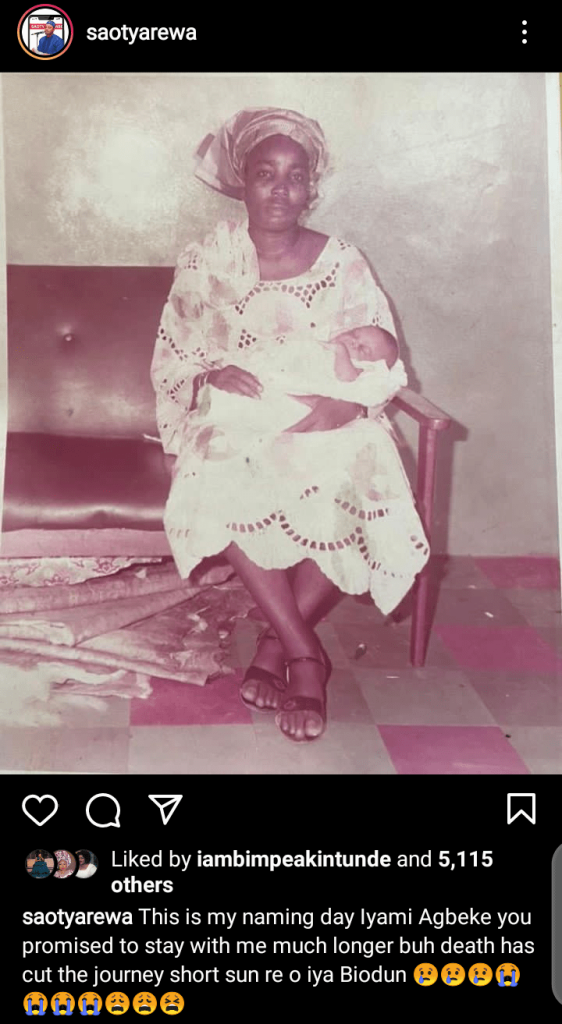 Mama Ereko Celebrates Saoty Arewa As He Bag Doctorate Degree
Gossipinfo news recall that Muslim artist AbdulAzeez AbdulSalam, also known as Saoty Arewa, recently earned a doctorate, and veteran actress Mama Ereko is happy for him.
Saoty Arewa earned a doctorate at Estam University in Cotonou, Benin Republic, as Timeofgist previously reported.
Saoty Arewa shared pictures from the ceremony on social media to share the happy news, writing:
Done and dusted yours sincerely is now a doctor, you can now call me Doctor Abdul Azeez Abdulsalam, many thanks to you my fans out there and my lovely mother I am nothing without you 🙇🙇 in the name of music.
Reacting to this, veteran actress Mama Ereko took to Instagram to congratulate him, wish him more blessing.
She wrote:
Big Congratulations Doctor Tuntun
🏆 @saotyarewa 🎊 👏 💐 🥳
More Blessings Insha'Allah
Alubarka Topo Fun Ojulowo Omo
In other news, Saoty Arewa's ex-wife alleged that he was a careless man who had slept with his sister's daughter.
The Islamic musician Saoty Arewa acknowledges in a viral video that Timeofgist acquired that he had sex with his sister's daughter, who had known him since she was a young child.
She claimed he confessed to having slept with her out of love for her after being accused by her sister.
The former spouse also says that Saoty Arewa's sister cursed him for what he did.
View the video here: