Habeeb Okikiola, popularly known as Portable, a controversial singer, was indignant at the extent of the damage done to his Range Rover in Ijegun.
On Sunday, November 6, the artist was doing a performance at a concert in Ijegun, Lagos State, when he experienced the shock of his life.
When Portable discovered that his Range Rover had been vandalized after his performance, he was astounded.
The singer nearly lost his mind while making a scene during the occasion.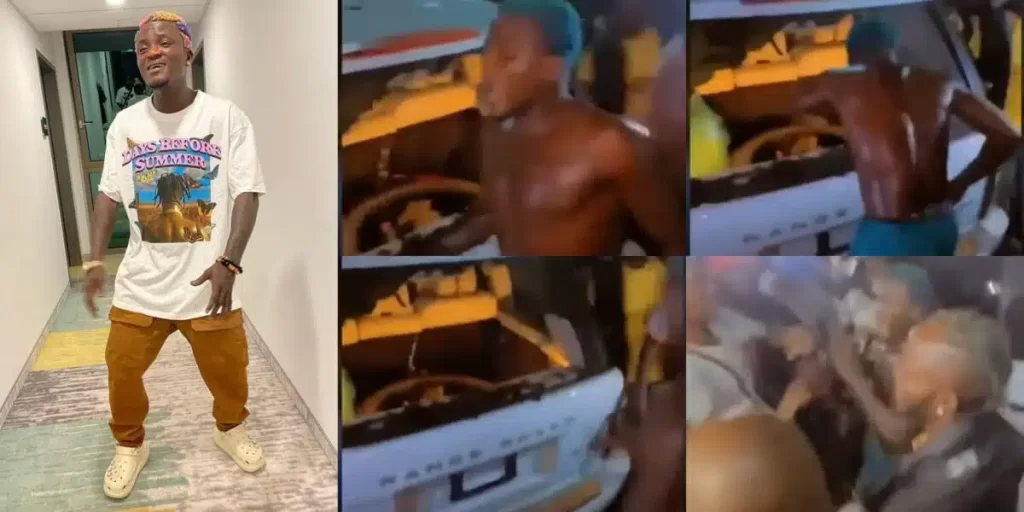 Portable could be seen yelling and showing in the popular video.
Portable engages in conflict
Portable had gotten into an ugly brawl in Ibadan the day after getting married to his baby mom, Zainab Badmus, and holding his naming ceremony.
Gossipinfo reported that Portable got married to his girlfriend, Zainab Badmus on Tuesday, June 21st at his son's naming ceremony.

The couple who welcomed a son on June 14 made it a double celebration as they got wedded and had a lavish naming ceremony.
Hours after his wedding, the singer whose career has been trailed by controversies had once again fought dirty on the streets.
In a video uploaded on Instagram, the singer was seen in the midst of the crowd as he fought dirty with thugs.
Portable fights in Benin
This isn't the first time Portable had fought on the streets.
Portable, while in Benin City for an event had gotten into a nasty fight with Benin indigenes.
Luckily for him, he was held by a group of people who tried pacifying him.
Hours after the fight, Portable almost got into another fight with a DJ in a club.
The singer got infuriated and irritated with the way the DJ was handling his song.
Nigerians took to the comment section to slam the fast-rising singer for his love for controversies. Many reminded him that Benin wasn't Lagos where he can get away with his dramatic lifestyle.