Nigerian online creator and skitmaker, Carter Efe, has taken to the micro-blogging platform X (formerly known as Twitter) to make a public announcement regarding a private video involving him and his partner.
In light of the recent leaked tape of actress Moyo Lawal, Carter revealed that he is facing blackmail concerning his own private video.
He has decided to inform the public because he anticipates the release of his private tape in the near future.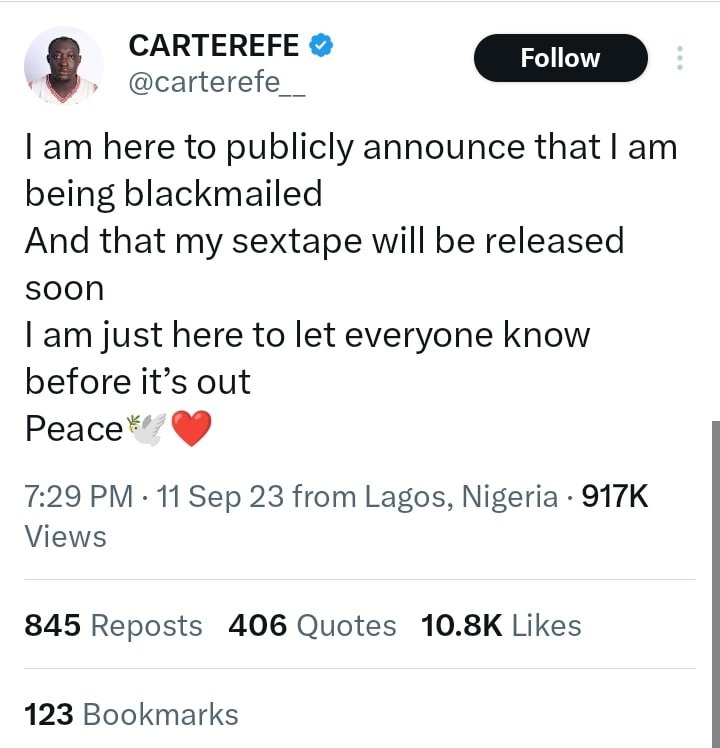 "I am here to publicly announce that I am being blackmailed. And that my s3x tape will be released soon. I am just here to let everyone know before it's out.
Peace".
Reacting to it, netizens took to social media to appeal to the blackmailer not to release the tape as they considered it a nightmare.
Reactions
One I am Eniola Myde wrote, "We need to come together as a society to contribute and pay the person not to release it
One Dat Warri Girl wrote, "Abeg who get am no release am o. Make una nor kill our sexual urge
One Food Networking wrote, "How Carter Efe tape wan be abeg? Blackmail please keep it. I cover my eyes with the blood of Jesus
One Lotus Bun wrote, "I just hope split no go full my phone after I watch am
One The Genius wrote, "I hope yours is better than that of Oxlade and Yhemolee. I hope say u no sluggish like Moyo's ex. We can't wait to see your take bruv
One Gun Girl wrote, "I hope you act am well because nobody is yet to beat Oxlade record