For their friendly encounter against Saudi All Star IX, the Paris Saint-Germain team traveled without incident to Saudi Arabia.
The Paris Saint-Germain team arrived in Saudi Arabia without incident for their friendly encounter against Saudi All Star IX.
Cristiano Ronaldo's Saudi All Star IX team will compete against the French team on Thursday at 6 PM GMT.
The PSG stars who traveled included Kylian Mbappe, Lionel Messi, and Neymar Jr., according to Gossipinfo News.
After landing, the squad immediately began a picture session with some supporters and government officials from the Saudi Arabian sports ministry.
They went to a "meet and greet" with some football fans after that. They also signed autographs. The team was also observed sampling some Saudi Arabian food.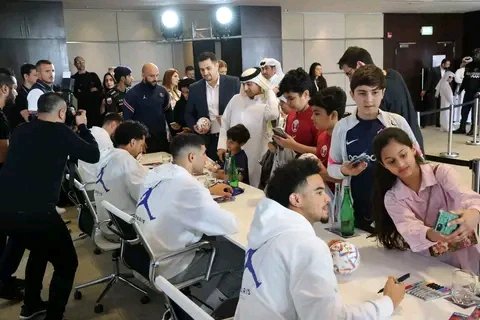 Later, the Paris Saint-Germain player used the stadium for some light exercise.
Before the game, they were seen passing passes to each other as the spectators cheered them on.
Recall that Jorge, Lionel Messi's father, is reportedly in Riyadh to speak with Al-Hilal about the possibilities of his son joining the Saudi club and earning an astounding £245 million annually.

In his first game since winning the World Cup last month, Messi scored a goal for PSG on Wednesday, but his future at the club is still up in the air.

In June, when his contract with the French champions is up, Al-Hilal has reportedly expressed a strong desire to lure him to Saudi Arabia.