A woman took to Facebook to share photos believed to be from her pre-wedding shoot but what caught attention was the caption she used.
"I'm getting married for money," she wrote. "Nothing concern me with una nonsense."
She then added the hashtag "Na mumu dey love."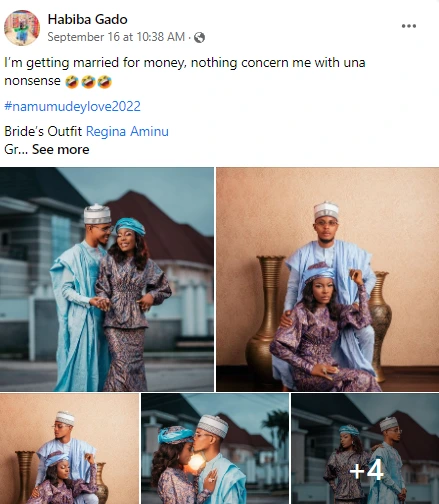 It is not clear if she is joking or not and she has not shared a follow-up post to clarify, despite her post getting over 2,000 reactions.
Her fiance also shared their pre-wedding video with the same "Na mumu dey love 2022" hashtag.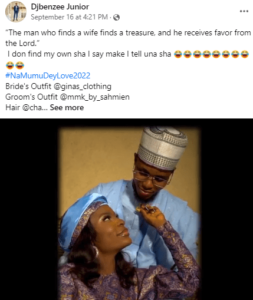 Gossipinfo news recall that Yoruba Nollywood star Mustapha Sholagbade has sent a heartfelt message on social media. As he reconnects with his elderly grandmother, Muniratu Ayoka Sholagbade,
Mustapha Sholagbade posted a picture of his elderly grandmother and a heartfelt statement on his verified Instagram page. The honorable actor expressed his happiness at reconnecting with his grandmother after a lengthy absence and said he is unsure whether to wish for her long life.
Mustapha Sholagbade also valued his grandmother's affection for him as a young child and her sense of humor, even when she was being cruel.
He wrote: My Grandma. So happy to set my eyes on you again. May God be pleased with you I don't know if to say God should grant you Longlife at 100+. Abi ??😂😂
She still dey wear wig , wear high heels, Eat meet do whole lot of things Muniratu Ayoka Sholagbade. (mama Layi) I pray for this grace too. Longlife in good health and wealth. Amin🙏🏿
Thank you for all you do when I was a kid
She's so funny even when she's mean I always laugh and call me Shamuga (big Teeth)🤣
Good to set my eyes on you again
I love you Iya Layi🤴