Prior to England's match against Iran in Al Rayyan on Monday, Mason Mount and Luke Shaw both made their first World Cup blunders when singing the national anthem.
Before England's World Cup start, curious fans noticed Mason Mount and Luke Shaw performing the national song with what appeared to be incorrect lyrics.

Despite the late Queen Elizabeth II's demise in September, the Chelsea and Manchester United team paid respect to her using the song lyrics that were used over her 70-year reign.

The words of the song change the song's title to God Save the King now that her son King Charles III is in power.

Mason Mount doesn't even know the national anthem, a Twitter user claimed.
Added by a second "Even the national anthem is incorrectly sung by them. Instead of singing King, Mason Mount sings Queen."
With Wales and the United States in Group B together with Iran, England entered their match against Iran as overwhelming favorites to take the group.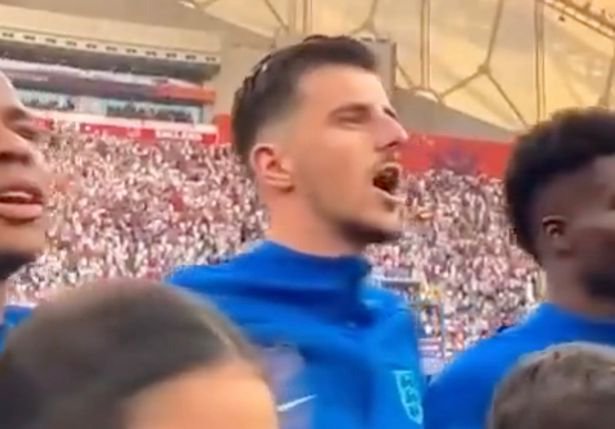 Luke Shaw attempted to commit the same error as his teammate from England.
Due to problems with digital tickets, fans had a nightmare leading up to the game, which follows their outrage that alcoholic beer was banned from stadiums on the eve of the campaign.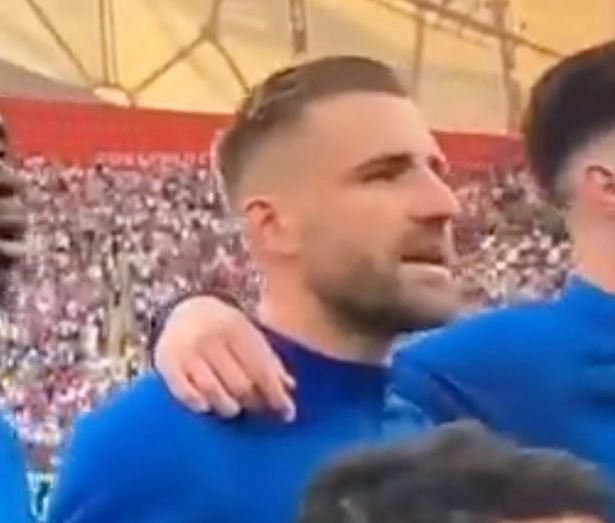 Some people were surprised by Gareth Southgate's team selection because he chose a back four rather than a back five, as he had done throughout England's journey to the semi-finals in 2018.
Jude Bellingham, Declan Rice, and Kieran Trippier made up Mount's starting midfield. Harry Maguire, John Stones, and Kieran Trippier made up the defense, and Jordan Pickford started in goal.
Gareth Southgate chose Mason Mount over another guaranteed starter.
To the chagrin of some of his supporters, Foden was left on the bench as Raheem Sterling, Bukayo Saka, and Harry Kane took their places up front.
The match between England and Ecuador was the tournament's second match after hosts Qatar lost to Ecuador on Sunday (November 20) despite benefiting from an odd VAR decision.
"You're always looking at the opponent – we feel this is a strong team and a strong way to start," Southgate said of his team selection prior to the game.
On Monday afternoon, England played their first World Cup match against Iran.
"We want to be optimistic and play aggressively, and we have a lot of depth coming in that we will need."

Then he continued, "We've made the most of the time; we spent the first half of the week getting people excited about the World Cup and the second half on the practice field.

"I'm happy with how the guys have handled everything,"