Gospel singer Tolu Odukoya Ijogun who is also the daughter of late Pastor Bimbo Odukoya, has reacted to the sad news of minister Osinachi's death.
The late singer allegedly died from chest pains inflicted on her by her abusive husband.
It was alleged Osinachi was suffering domestic violence in her home and had confided in some friends about what she was going through at the hands of her husband.
However, being a gospel minister, Osinachi Nwachukwu was afraid of what the world would say if she ended her marriage after four children.
Now responding to the allegations, Tolu Odukoya Ijogun, a mum of three, cried out saying victims should speak against abusive spouses.
She wrote
ABUSIVE SPOUSES MALE OR FEMALE; IT IS WRONG" THIS IS NOT WHAT GOD INTENDED FOR MARRIAGES. I BELIEVE ABUSE THRIVES MORE IN SILENCE…DON'T TELL ANYONE, RESOLVE IT AT HOME….IF IT'S ABUSE, IT CANNOT BE RESOLVED BETWEEN BOTH OF YOU…TELL YOUR LOVED ONES; IMMEDIATE FAMILY….SPEAK OUT…
I KEEP SAYING IT MARRIAGE ISN'T A LIFE TIME COURSE IN MANAGEMENT, IT IS MEANT TO BE BEAUTIFUL , COMPANIONSHIP, PARTNERSHIP, LOVE YES IT IS HARDWORK BUT IT IS NOT CONTROL AND ABUSE. HEARING ABOUT THE WOMAN WHO DIED TODAY TRIGGERED ME, WE NEED TO SPEAK MORE ABOUT THESE THINGS….."
Tolu posted on Instagram.
Post below…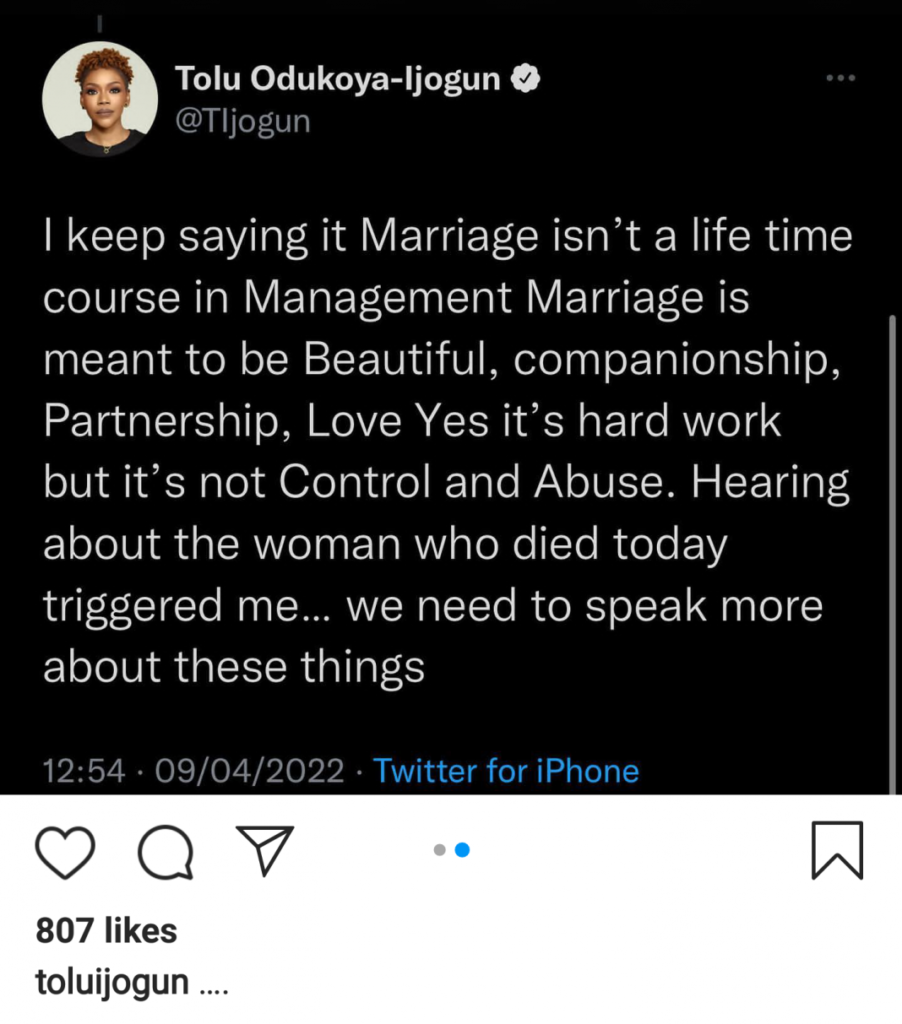 Prior to her death, Osinachi Nwachukwu was one of the leading choristers at Dunamis Int'l church, Abuja.