Ayo Ajewole, a well-known comedian in Nigeria also known by his stage name Woli Agba, celebrated his birthday with a series of beautiful photos on his official Instagram page.
The comedic actor posted the image to his Instagram page and wrote:
AYOBAMI, I know you are short of words. God is on your side Olakunle. May you never fail God. Happy birthday to me. @woliagba_ayoajewole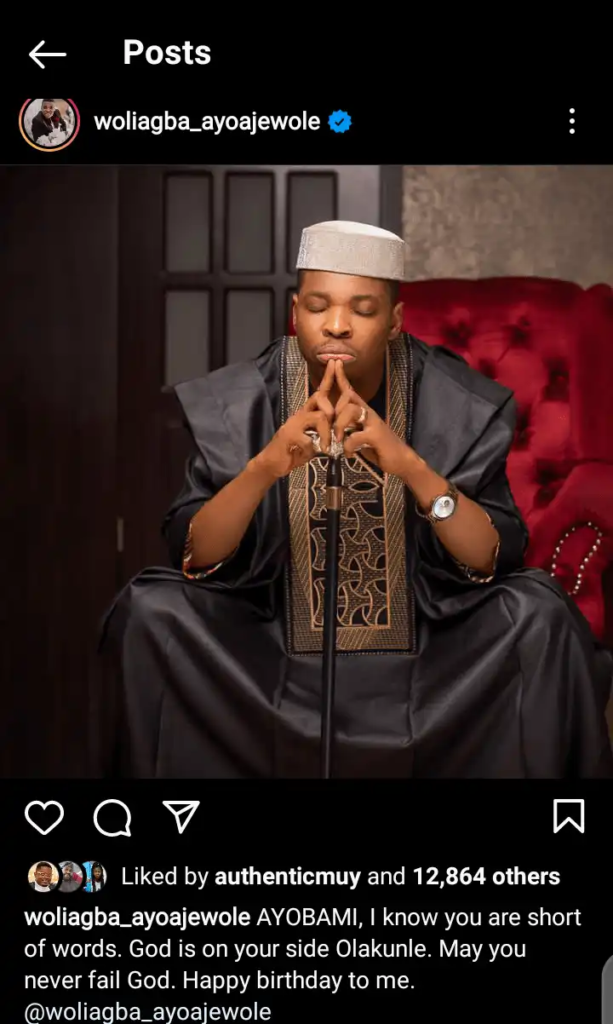 I just branch to see Ronaldo" Woli Agba Says As He Visits Old Trafford


comedian Woli Agba visits Manchester United's home stadium, Old Trafford. The well-known Nigerian comedian made light of the fact that "even super striker Cristiano Ronaldo missed him" when he and filmmaker Lateef Adedimeji Woli Agba were seen inside the arena.
Recently, Manchester United's home stadium, Old Trafford, was visited by Woli Agba and Lateef Adedimeji. The comedian Woli Agba shared pictures and videos of himself on the Red Devils' field on his social media platforms as soon as he arrived at the ancient stadium.
In Greater Manchester, there is a football stadium called Old Trafford. It has a seating capacity of 74,310, making it the eleventh-biggest club football stadium in Europe and the largest in the United Kingdom.
It remains a tourist destination in England, as holidaymakers and fun seekers often visit the facility to relax or tour the arena.
Also spotted in a clip shared by Woli Agba is Nollywood sensation Lateef Adedimeji, whose latest film reBIRTH is currently premiering. Although there are no specific details on why the celebrities visited Manchester, many have suggested that it could be for business purposes.