Due to issues with the Fifa ticketing software, England fans in Qatar have been unable to enter the stadium for the World Cup match versus Iran.
Many fans have expressed their frustration on social media since they are unable to obtain their e-tickets as a result of an issue with the software.
Some users of the app claim that their tickets have vanished, while others are unable to log on.
The FA is working hard to find a solution, according to the England Football Supporters' Association.
"We're aware of concerns with some e-tickets at the stadium with FIFA's ticketing app," they stated in a statement. The FA is making a lot of effort to find a solution for England supporters.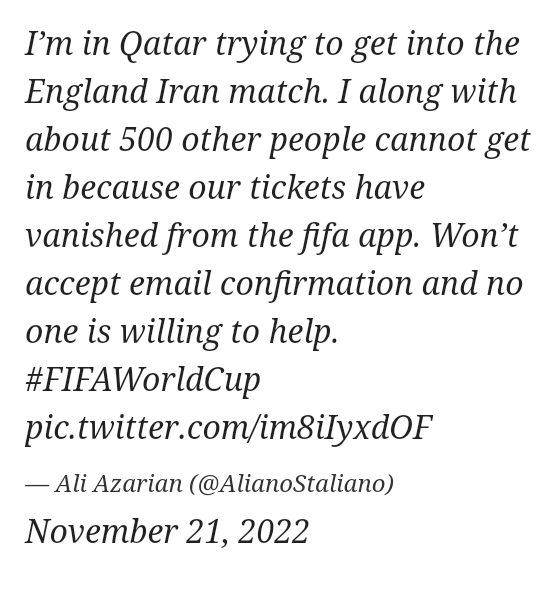 "Join the ticketing resolution line at the stadium if you are having trouble seeing your ticket on the app, but keep checking the app."
A number of supporters have resorted to social media to express their annoyance, including supporter Ali Azarian. He asserted that the problem prevents hundreds of England fans from entering the stadium.
I'm in Qatar attempting to get into the England Iran game," he tweeted.
"My ticket and those of about 500 others have disappeared from the FIFA app, so we are unable to enter. refuses to accept email confirmation, and nobody wants to assist.
The "My Events" portion of the app, which is where e-tickets should show, frequently has issues.
The warning "There is no ticket linked with your email address" has alarmed several worried fans.
Hundreds of fans are pictured in social media images waiting in a "resolution queue" outside the Khalifa Stadium for printed tickets.